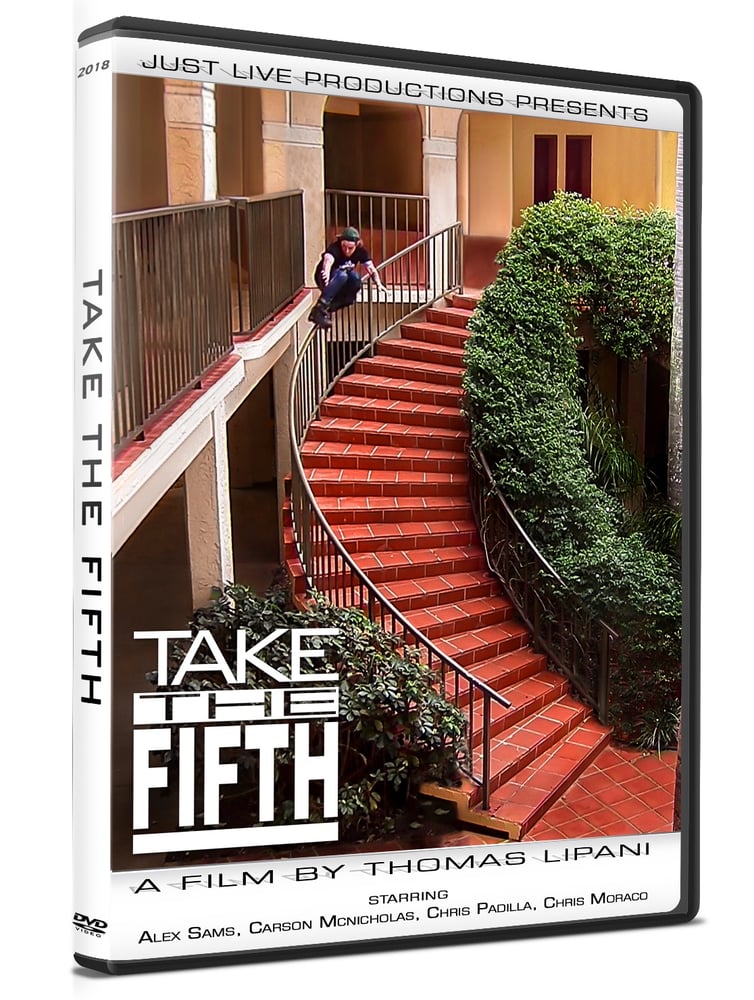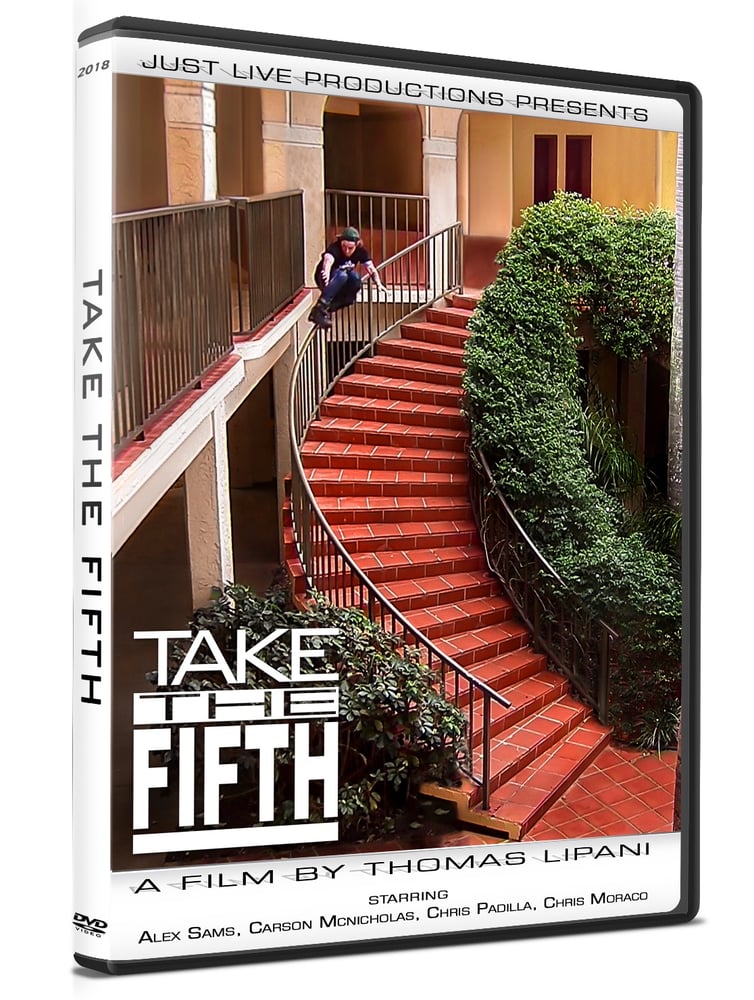 TAKE THE FIFTH 2018 DVD WITH FREE SHIPPING
$10.00 / Sold Out
JUST LIVE PRODUCTIONS PRESENTS
THE FIFTH INSTALLMENT TO THE
ROLLERBLADING FILM COLLECTION.
TAKE THE FIFTH IS A FILM BASED OUT
OF NORTH AND SOUTH FLORIDA STARRING FULL LENGTH PROFILES ON ALEX SAMS, CARSON MCNICHOLAS, CHRIS PADILLA & CHRIS MORACO. ALSO INCLUDING A FLORIDA MONTAGE AND AN NYC SECTION FEATURING MINI VIEWS ON...SEAN SMITH, ROBBIE SQUIRE, GABY VELASQUEZ, JON FROMM, ANDERSON GILLIS, RAMELLE KNIGHT, ROBBIE SILCOX, ERIC HALLIMEN, PABLO PORTA, SAFE JOURNEY, RAVEN GUERRA, HECTOR RODRIGUEZ, DANIEL VILLANUEVA, VENANCIO FERNANDEZ, SAL ZASO, TADD LABOZZETA, DANNY IRIZARRY, SEAN GROSSMAN, SAM GRIMM, YUSUF JAMES, JON ORTIZ, ROBERT DISLA, JOE LEE, ARSENIO PATTERSON, PABLO MUNOZ, TREVOR JOHNSON, CHAD PETROSKI, VIK FINCH & THOMAS LIPANI. DVD EXCLUSIVES FEATURE 30 MINUTES OF BONUS FOOTAGE INCLUDING A SKATEPARK SECTION FEATURING JULIAN BAH, JON GARCIA, MIKE MCDONALD, JOHNNY RAMIREZ, JUSTIN FINLEY, ZACH SAVAGE, BLAKE KELLY & ERIC MICHAEL. A B-ROLL SECTION AND MANY MORE.
DVD RUNTIME INCLUDING BONUS FOOTAGE IS APPROXIMATELY 1 HOUR AND 2 MINUTES.
FILMED, EDITED AND DIRECTED
BY THOMAS LIPANI